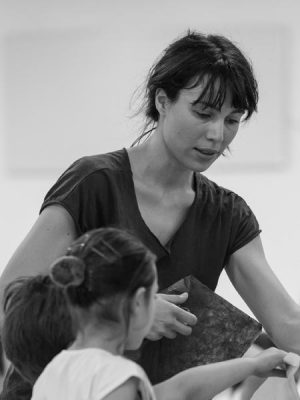 Contemporary dance teacher
Chiara Casciani è laureata con lode in Storia della Danza e del Mimo presso l'Università degli studi Roma Tre. Dopo la formazione in danza classica e contemporanea a Roma (Accademia Nazionale di Danza di Roma, Scuola Arte & Balletto diretta da Milena Zullo), si perfeziona a Reggio Emilia presso il Corso di Perfezionamento per Giovani Danzatori della compagnia Aterballetto diretta da Mauro Bigonzetti. Nel 2005 si trasferisce a Londra dove consegue il One Year Certificate of Higher Education al The Place, London Contemporary Dance School.
Tornata in Italia crea assoli di danza presentati presso il Festival Trasform'Azioni a Roma e danza come performer e interprete con diverse compagnie tra cui compagnia Materiaviva, Compagnia Teatropersona (compagnia vincitrice Premio Ubu 2017), compagnia DarkCamera, compagnia Teatroviola, partecipando a prestigiosi festival in Italia e all'estero.
Tra il 2007 e il 2008 collabora come docente ai percorsi di danza per bambini presso l'Accademia sull'Arte del Gesto diretta da Virgilio Sieni a Firenze.
Prosegue la sua formazione certificandosi presso Polestar come insegnante pilates Matwork e conseguendo il diploma in Pedagogia del Movimento presso Choronde Progetto Educativo. Nel 2018/2019 partecipa al percorso "L'armonia dello spazio di Laban. Ispirazioni e strumenti di embodiment, improvvisazione e composizione" condotto da Laura Delfini, coreologa labaniana e analista del movimento. Nel 2021 ha conseguito il Primo Livello del Corso di Formazione come Analista del movimento Laban Bartenieff Movement System.
Attualmente collabora con l'Associazione Choronde Progetto Educativo con progetti di danza e psicomotricità nelle scuole di ogni ordine e grado e con il Collettivo artistico FUORICONTESTO.