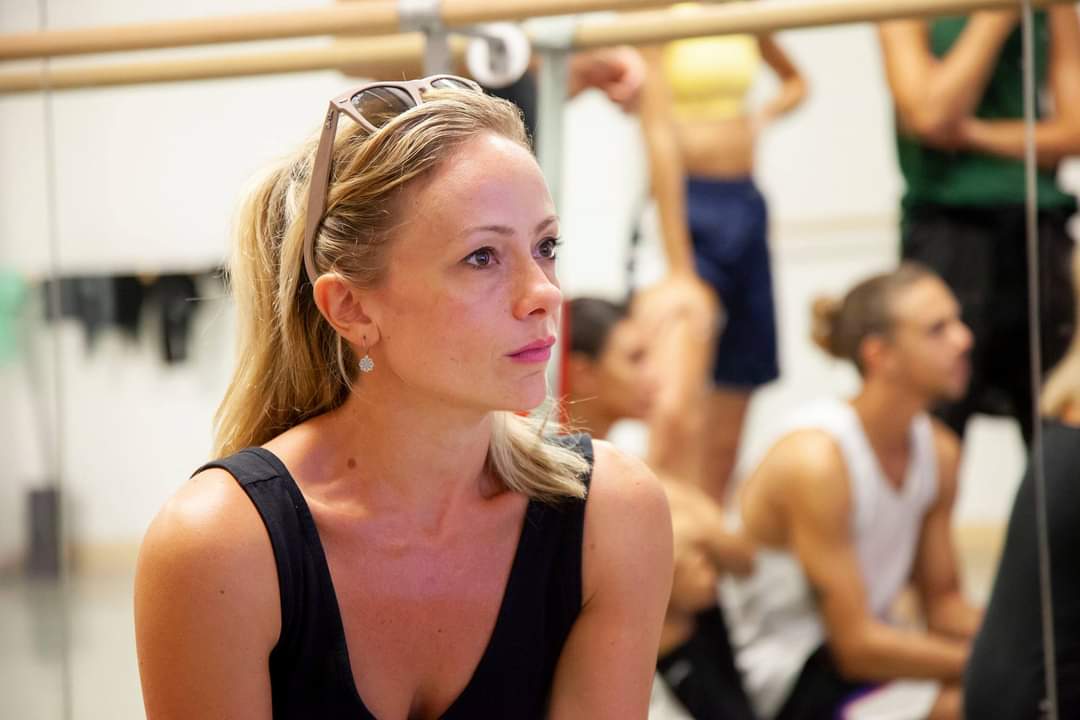 Born in Rome in 1983, after a brief sports career in Artistic Gymnastics and a six year experience singing in the Polyphonic Choir of the Popular School of Music of Testaccio, Francesca Magnini is admitted to attend a professional training in classical and contemporary dance at Balletto di Roma, directed by Franca Bartolomei together with Walter Zappolini, where she graduated in 2004. Beside the training as a dancer she has always encouraged a strong passion for humanistic studies, enriched at the Department of History of Art and Performing Arts, Faculty of Humanities, "La Sapienza", University of Rome. Graduated with honors in Theatre and Performing Arts (2006) with a thesis in Dance History entitled "Research paths on the Contemporary Scene: Kinkaleri" and in Knowledge and Techniques of Theatrical, Cinematographic and Digital Performance (2009), with a master thesis in Theatre History "The Mask of Pantalone in Roman Dramaturgy of the seventeenth century", in 2013 she received a PhD in Digital Technologies and Research Methodologies for Performing Arts with a thesis entitled "Dance and repertoire. Tradition and transmission in contemporary choreography". At the same Department he has also collaborated with Prof. Roberto Ciancarelli assisting him in many teaching activities related to the chairs of Dance History, History of Theater and Performing Arts, Theory and Pedagogy of the Actor, Theories and Techniques of the Actor. Her doctoral research project – came out of a close and fruitful collaboration with the International Choreographic Arts Center (ICK) in Amsterdam, directed by the Italian choreographer Emio Greco and the Dutch director Pieter C. Scholten – has thoroughly investigated the mechanisms of production, incorporation and transfer of repertoire in contemporary choreography, with particular attention to the most recent digital experiments for the documentation and transmission of movement (with direct analysis of different Digital Tools and Multimodal Glossaries). This study merged into a publication in english entitled: "Inspiration Emio Greco | Pieter C. Scholten. The Multiplicity of Dance"(Artegrafica, Rome, 2015).
Member of AIRDanza, Italian Association for Dance Research (since 2012) and of CUT, Consulta Universitaria del Teatro (since 2017), she took part as a member of the organizing committee at National and International Conferences and roundtables, including "Imagining Dance: Bodies and Visions in the Digital Era" (La Sapienza, Rome, 3-4 December 2015), "Dance writings. Five researches in Italy today", (La Sapienza, Rome 15 May 2018), "Ritual body and technological body: what possible relationships?", (Inside Out Contemporary Dance, Balletto di Roma, 6 December 2018) and many others. She has signed publications on important scientific journals, including: Inside Movement Knowledge – LAB#4. Un laboratorio di ricerca per la registrazione e la trasmissione della coreografia contemporanea, in A. Jovićević, A. Sacchi (a cura di) I modi della regia del nuovo millennio, «Biblioteca Teatrale», Bulzoni, Rome, 2009, voll. 91-92, pp. 327-342; Un pensatore del corpo, review of Dominique Dupuy's book, Danzare Oltre. Scritti per la danza, edited by Eugenia Casini Ropa and Cristina Negro, Macerata, Ephemeria Editrice, 2011, in «L'Indice dei libri del mese», Anno XXIX, n. 5, May 2012, p. 33; Trame di tecniche e stili nelle tradizioni della danza contemporanea. Note su studi e ricerche, in «Danza e Ricerca. Laboratorio di studi, scritture, visioni», Scientific Review of Alma Mater Studiorum – University of Bologna, IV, n. 3, 2012, pp. 1-34; Sistemi di trasmissione delle conoscenze nella danza contemporanea: la relazione coreografo-danzatore, in «Teatro e Storia», Bulzoni, Rome, 2013, vol. 34 n.s., pp. 325-357; Seigradi: dancing in a real-virtual environment. Affects and Movement in Santasangre's work – in «Danza e Ricerca. Laboratorio di studi, scritture, visioni», Scientific Review of Alma Mater Studiorum – University of Bologna, IV, n. 5, 2014, pp. 31-53; Pre-Choreographic Elements: alla sorgente delle energie corporee e dei materiali di movimento, in V. Di Bernardi and L.G. Monda (edited by), proceedings of the International Conference "Imagining Dance. Bodies and visions in the Digital Era, Sapienza Università di Roma, 3-4 Dec. 2015, Roma, Piretti ed., Bologna 2018, pp. 131-142; "Kinkaleri" item, in nuovoteatromadeinitaly.sciami.com, Focus (I Cenci, West, Everyone Gets Lighter | All!), n. 3, 2018; Il corpo come laboratorio alchemico. Aporie del contemporaneo tra fisso e volatile, in V. Di Bernardi (edited by), "L'opera coreografica e i suoi processi creativi", «Biblioteca Teatrale», Bulzoni, Rome, July-Dec. 2020, vol. 134, pp. 183-207; Nuove prospettive del Balletto di Roma tra tradizione e innovazione, in E. Cervellati, Giulia Taddeo (edited by), La danza in Italia nel Novecento e oltre: teorie, pratiche, identità, Ed. Ephemeria, Macerata, 2020, pp. 270-275; She also wrote with S. DeLahunta and B. Bermùdez the item Emio Greco | Pieter C. Scholten, in J. Butterworth and L. Sanders (edited by), Fifty Contemporay Choreographers, London, Routledge, 2021.
She has also made numerous contributions to online magazines and blogs such as Exibart, Biennale Danza, Teatro e Critica, Alfabeta2, Artribune, as well as interventions at conferences and conferences in the field of Dance and Performing Arts, including: From Choreographic Objects to Afterlife of IMK, Inside Movement Knowledge LAB # 4, Amsterdam, The Netherlands, 17 April 2010; Camillo 2.0: Technology, Memory, Experience, Performance Studies international # 17, Re: Mickery shift – Roundtable on Mickery Archives, Utrecht, The Netherlands, 28 May 2011; Réflexions et hypothèses vers une nouvelle idée d'espace, de temps et de répertoire dans la danse contemporaine, Atelier des doctorants en danse, Cycle «Corps et danse», Le corps sur la scène et hors la scène, Université de Nice Sophia Antipolis, Nice, 24 June 2013; "Affections and effects in the Tanztheater", as mediator of the round table with the German choreographer Susanne Linke, curated by Vito di Bernardi, La Sapienza University of Rome, 22 February 2017; Descrivere, narrare, illustrare vs percepire, abitare, riadattare: note per una trasmissione della danza "a fior di pelle", Trasmettere la danza. Sguardi, ascolti, pratiche, visioni, Bologna, La Soffitta, 2 November 2019.
In 2016/2017 she has collaborated with Balletto di Roma as Academic Advisor, with a supporting role in the cultural and communication processes related to the activity of the Dance School directed by Paola Jorio, of the Professional Contemporary Dance Course and the Company, both under the Artistic Direction of Roberto Casarotto. For the three years 2018-2020 she has been appointed Artistic Director of the Balletto di Roma Company. In representation of BDR is Artistic Curator of the cooperation project CLASH! When classic and contemporary dance collide and new forms emerge (2018-2021), approved and co-financed by Creative Europe (on 84 projects co-financed for the small scale, of which 13 Italian) and of the strategic partnership project UP2DANCE | Updating professional profiles towards contemporary dance (2019-2020) funded by Erasmus +. She also curates four editions (2017-2018-2019-2020) of Inside Out Contemporary Dance, a project supported by Roma Capitale Ass.to alla Crescita Culturale and in collaboration with SIAE.
For the academic year 2018, 2019, 2020 and 2021 she has been appointed Professor of Digital Archives and Museums for the Performing Arts at the Master's Degree (LM-65) of the Department of History, Anthropology, Religions, Art and Performing Arts of Sapienza, University of Rome.
Francesca is also a certified teacher (3rd level) of Floor-Barre® technique | Zena Rommett Floor-Barre Foundation (NY), which she currently teaches in Italy and abroad.